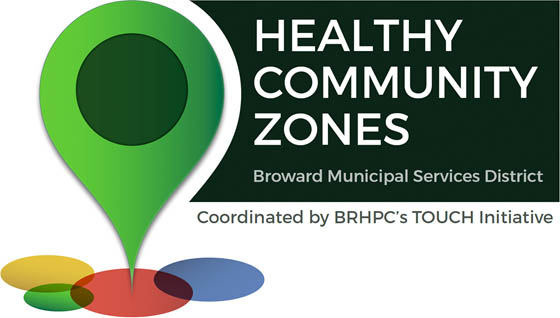 The Dania Beach Healthy Community Zones Initiative is a new, comprehensive project funded
and supported through the Broward Regional Health Planning Council's (BRHPC) Partnerships Transforming Our Community's Health (TOUCH) Initiative. It is an exciting and ambitious program through which the TOUCH Initiative leverages its experience in leading coalitions to provide a holistic approach to community planning and development. The DBHCZ initiative is unique in that it applies a community health approach to redevelopment while building partnerships with outside organizations to bring available resources to the community for implementation. In July 2015, The Dania Beach Community Redevelopment Agency (DBCRA) was selected by TOUCH through a competitive process to become one of four Healthy Community Zones within Broward County. The Dania Beach Healthy Community Zone (DBHCZ) encompasses two adjacent neighborhoods within the Community Redevelopment Area that are identified as low income, with higher rates of unemployment and located within USDA designated Food Deserts. In addition, according to research conducted by BRHPC, residents of these neighborhoods suffer from higher than average rates of diabetes and obesity.
The four focus areas are:  Active Living and Healthy Eating; Clinical and Community Linkages; Healthy and Safe Built Environment; and, Tobacco and Drug Free Living.  The results have included capital projects, health programs, increased physical fitness and training and job opportunities.  The program and technical assistance to the DBCRA will be available through September 2017.